In the past few weeks, social media has been ablaze with discussions of Nike's 30th anniversary campaign featuring the fallen NFL quarterback, Colin Kaepernick who navigated to a higher plane of activism and heroism. Kaepernick courageously took a stance against police brutality in the U.S. against unarmed Black men. This act of defiance by a young Black athlete has since polarized the nation into deciding whether kneeling when the national anthem is being played at sporting events is unpatriotic. Interestingly enough, the discussion about Black men being killed has been minimized, quite like the ending of slavery as a strategy to unite the nation versus rather than the   unjust cause, but, I digress. Colin is now the face of Nike, wearing the banner of sacrifice and narrating a tear-jerking advertisement about being crazy enough to overcome challenges. Kaepernick as the star of this campaign has once again ignited the nation LOL. The descendants of those people who believed that slavery should NOT have been abolished and current purchasers of tiki torches and red hats made in China, touting America's greatness are burning their Nike shoes as an act of patriotism because as we all know, Nike and Kaepernick represent anti-American sentiments (burning bodies, crosses, torches is as American as apple pie). However, the "others" of America are swayed in feel good emotions about our modern day Rosa and are encouraged that such a company as Nike with vast global pull is seeking to be on the "right side of history." Albeit, we are cognizant that the primary goal of such organizations is to create wealth and continue the spinning of the capitalistic wheel, within which we are mere cogs; however, we would be remiss not to look at their gesture as encouraging. Accordingly, many are rushing to purchase Nike shares, while others burn sneakers and, colleges like Ozarks in Missouri withdraw from relationship with Nike.
Support Those Who Support US
I too rushed out to purchase Nike shares and have been encouraging my peoples to do the same. It is the first time since the dotcom era that I have jumped on a bandwagon to invest in this manner. However, I felt it necessary to support a company that supports US. Colin has been denied a job offer because he protested creating the opportunity for Nike to now step up and provide him with a hefty paycheck, what's there not to love? So as this momentum continues with Nike and on what side of history we will stand, it begs another question about the spending of OUR dollars. Do enough of us think about buying a Nike share for $80 versus buying a pair of sneakers for same or a higher price?
Make Financial Planning Our Thing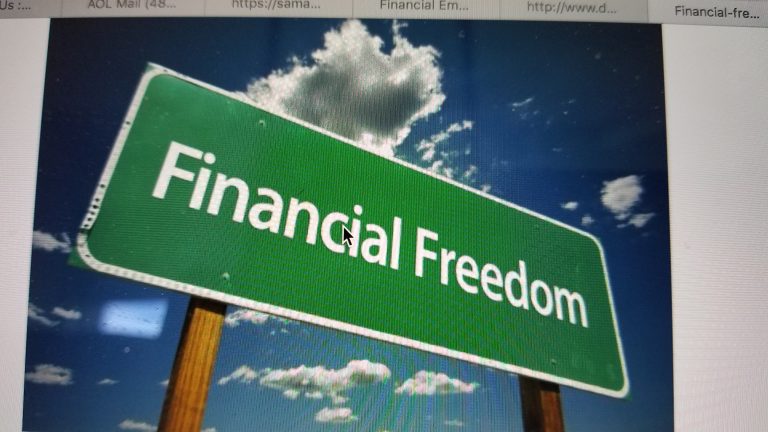 As we continue to sway in the Kaepernick wind of courage, can we please purchase some Nike shares instead of more Nike sneakers and as such, risk owning potentially appreciating versus depreciating assets?  More importantly, can we pause to sit and make some financial planning decisions for our retirement, for our children's college funds, for our own burial, for a generally more balanced financial future? I do know that many of us live from pay check to pay check, however, what are we doing about that? Additionally, lack of saving, too many trips to the ATM, high interest loans for cars, late payment fees, refusing financial advisement and of course shopping on an impulse are often signs that we "got to get it together." Most of us, myself included, struggle with some or all of these.
Photo Credit: FB
Financial Freedom Flight
We are all in this thing together and as such, as we dialog, here are a few basic questions/ tips to consider:
CREDIT SCORE

. Do you know your credit score? Create a FREE account with any reputable service and determine how your credit can start being fixed immediately to increase your score. Pay off your high interest credit cards first and maintain 30% or lower credit card balances is a good starting point.

BUDGET

. Do you budget? Write down your income and expenses, including miscellaneous spending. If you are spending more than you are earning, cut your expenses and/or get another job that pays more, or, a part time job to add income.

EMERGENCY FUND.

Have you saved three to six months expenses? Create a rainy-day fund with some money stashed away, just in case you lose your job or a loved one unexpectedly. This fund should be different from your long-term savings.

ASSETS OWNING.

Are you purchasing too many depreciating assets (clothes, weaves, makeup, crap you never use) versus buying appreciating assets (real estate, stocks, CDs, IRAs)?  If you are, FLIP THE FOCUS.

WILL WRITING.

Ensure that all your assets have a beneficiary listed. Create a will, it will limit the family bickering and the government from benefitting more than your loved ones in your absence.

INSURANCE POLICY

. Purchase an insurance policy at bare minimum for your burial expenses. It is also a low-cost way to leave some legacy for your loved ones.  Someone in the family should know where your financial documents are. Discussing death will not cause you or your loved ones to die, so challenge your elders and ask about theirs.

RETIREMENT ACCOUNTS.

Have you transferred your 401ks etc. from your previous jobs? You can easily consolidate them into IRAs available with various financial investment firms.

FINANCIAL EDUCATION

. Instead of just liking random posts on social media, find communities online that will inspire you to become more financially educated (I have been learning a lot from Stocks and Stilettos on FB).  

YOUR BRAIN IS YOUR HUSTLE.

Improve yourself and your income potential. Having a Bachelor's degree will generally afford you an average of 75% more dollars more than just a High School Diploma over your lifetime; add more for Master's degrees and even more for Doctoral degrees.  In the absence of a formal degree, find a vocational or entrepreneurial track and grind! Either way, become more educated about being financially savvy.

GO DEEPER

. Before you can move forward to financial freedom, you must determine WHY you are spending so much!! Is it because you are comparing yourself to others who are advertising their visible manifestations of success?

Do

you shop because you believe those

things will make you a better, happier, prettier, sexier person? All that glitters ain't gold, so focus on your reality,

not the Jones's and true happiness is a choice and comes from within.

Who the hell are the Jones's anyway?
The Kaepernick effect has stung me into action to optimize my family's portfolio, consequently, we have added Nike and CRON shares proudly. Let US as a community become more aggressive in straightening out our financial selves and as such create a stronger springboard for the next generation. Our off-springs do not need to be burdened with us as dependents as we age.  The idea of children being old-age pension should end here with US. Let's prepare ourselves to be financially independent and leave a small legacy for our loved ones if we can. Like Nike, Just DO IT, and, as we LEARN, we TEACH…
Photo Credit: FB
RESPECT TO THE MAX COLIN KAEPERNICK and Nike. Ashe!
Jamaican born and raised Nadine L. Leblanc is an Educator and Cultural Critic residing in South Florida. She is a PhD candidate at Florida Atlantic University in Educational Leadership and Methodology. Email: [email protected]